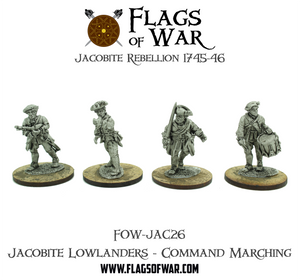 New 28mm Jacobite Lowlander Miniatures
At Prestonpans most of the Jacobite army was made up of the Highland clans that came out in support of the Rising. By the end of the war the majority of Charlie's army was made up of Lowlanders. Most came from the East of Scotland drawing a large support from those of the Episcopalian faith.
These new packs have been created to represent the likes of Ogilvy's,  Duke of Perth's, John Roy Stewart's Edinburgh Regiment and the other Lowland Battalions. They are in a standard Marching pose and come with a command and infantry pack.
Although they have been labelled Jacobite's. These figures can easily be used for the Loyalist Militias from Glasgow, Paisley and Edinburgh that took the field for King George. Just make sure you give them a Black cockade rather than a white one.
---